» About Saffron & Blue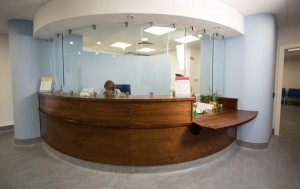 Saffron & Blue Medical Clinic provides primary GP medical services to the communities of Ennis and surrounding areas.
Our team comprises four doctors, two nurses and three receptionists/secretaries.
We believe passionately in the role of primary care in the community for the prevention and treatment of illness and swift referral to other care settings when required.
To make this a reality, we have invested in the creation of the most modern, advanced medical facility in the county.  We have also invested in our own continuing education as health professionals to ensure you get great care.  We also place a great emphasis on efficient systems and record-keeping to ensure that your records are properly protected and secured.
Family care, maternal services, men's and women's health, mental health, eldercare, minor surgery, diagnostics, sports medicine are just some of the areas in which we have a special interest or qualifications.
We are here for all of your health needs so please be assured that you can discuss any of your concerns, large and minor, mental and physical with us.
Saffron & Blue Medial Clinic welcomes all patients.  We hope that you will entrust us to provide for your primary healthcare needs or, if you are an existing patient, that you will continue to place your confidence in us.