Clare Abbey Skin Cancer Clinic is a dedicated unit of Clare Abbey Primary Health Centre (CAPHC).
CAPHC is located close to the M18 outside Ennis and serves patients across Clare and the Mid-West Region.  With 5,000 square foot of accommodation, it includes nine clinical rooms, extensive administrative, storage and waiting, play, parking and ancillary facilities.  It also accommodates Clare Abbey Skin Cancer Clinic and an on-site pharmacy.  Clinically we are compliant with HSE and HIQA guidance and the Centre has full fire and disability access certification.  The Centre and its associated Clinics have successfully completed the ICGP Minor Surgery Accreditation process.
ACCOMMODATION & FACILITIES
Within the Skin Cancer Clinic, accommodation comprises consulting room, operating theatre, side room scrub area with elbow taps, administration space, waiting area and self-contained decontamination room.   The Unit complies with and exceeds the standards required by HIQA for Primary Care facilities e.g. specific operating room, marmoleum flooring, coving, IPS panelling, elbow taps, central couch with underfloor power source, theatre-standard paint etc.  The theatre space features mechanical ventilation delivering fifteen air changes per hour and a touchless gesture-controlled overhead light featuring six LEDs and unparalleled spot quality featuring WelchAllyn Sure Colour for accurate tissue colour rendition.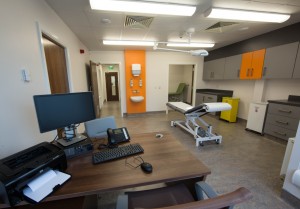 The Decontamination Room has been designed in accordance with HSE guidelines for effective Decontamination of Reusable Invasive Medical Devices (RIMD).  It contains hand-washing sink, double instruments sink and draining area, bioSonic cleaner, autoclave and mill washer. Instruments are subject to a fully validated, traceable path, overseen by a dedicated theatre nurse with specific experience in these practices.  The purpose-built, non-clinical space for decontamination of RIMD minimises cross-infection risks.  The Class B autoclave and associated equipment are serviced regularly and validated annually.
All clinical instruments comply with EU Standards.  Installation, commissioning, servicing and annual validation of decontamination equipment complies with medical directive 93/94/EEC.  All instruments are traceable back to individual patients via labelling, printouts and electronic recording.
A 'Traffic Light' system applies to Decontamination Room practices i.e. Red Zone (where RIMD are returned for processing), Amber Zone (where RIMD are inspected, packaged and prepared for sterilisation) and Green Zone (where medical devices are released or dispatched etc prior to reuse).
ASSESSMENTS  &  TREATMENTS
The Skin Cancer Clinic offers a full-service spectrum from initial assessment to preventative therapy to repair of complex defects.
A review of the Clinic's tracking and tracing system for pathological examples confirmed exceptionally high accuracy in pre-biopsy diagnosis correlated with histopathology diagnosis by examining pathologist at University Hospital Limerick.  The presentation of these findings led to the award of the Ross Ardill Memorial Prize in 2015 and was included for consideration of the National Cancer Control Programme Guidelines for the management of non-melanoma skin cancer in Primary Care settings.
Every interaction in the Clinic is subject to risk assessment for infection transmission.  Compliance with the following quality standards is applied
Guidance for Application of Standards and recommended Practices for Local Decontamination Units in Primary Care, Dental, Podiatry and GP Practice (HSE, 2016)
Code of Practice for Decontamination of RIMD (HSE, 2007)
Guide: Manufacture of Medical Devices within Healthcare Institutions (Irish Medicines Board, 2005)
Safe and Effective Use of Benchtop Steam Sterilisers (Irish Medicines Board, SN 2009)
Cleaning and Decontamination of Reusable Medical Devices (Irish Medicines Board, SN 2010)
Infection Prevention and Controls for Primary Care in Ireland (HSE, 2014)
PERSONNEL